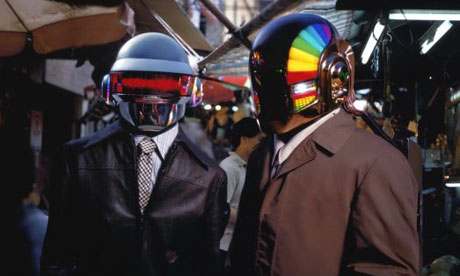 Band's drip-drip info campaign for forthcoming Random Access Memories continues with six-second video loop on Vine
Daft Punk have announced the tracklist for their new album, using Twitter's video ap Vine.
Columbia Records unveiled the names of Random Access Memories' 13 tracks in a looping six-second clip, posted yesterday. The official running order mostly corroborates a leaked tracklist from earlier this week; the only change is track 10, titled Motherboard, not Motherhood.
Daft Punk's Vine animation sadly has no soundtrack, and the French duo have also left out details of which collaborators appear on which songs. Luckily, those credits were part of the earlier leak. According to that source, all but three songs have guests, including the Strokes' Julian Casablancas on Instant Crush and Paul Williams, the co-writer of the 1979 Muppets song Rainbow Connection, on Touch.
Last week, Daft Punk announced they will launch their album on 17 May with a live playback at the Wee Waa agricultural fair in New South Wales, Australia. The duo has "no current plans" to tour, Thomas Bangalter told Rolling Stone. "We want to focus everything on the act and excitement of listening to the album. We don't see a tour as an accessory to an album.
Random Access Memories tracklist
1. Give Life Back to Music
2. The Game of Love
3. Giorgio by Moroder
4. Within
5. Instant Crush
6. Lose Yourself to Dance
7. Touch
8. Get Lucky
9. Beyond
10. Motherboard
11. Fragments of Time
12. Doin' It Right
13. Contact
Well I am stoked!!
_________________
--------------------------------------------------------------------------------------------------
I'm very important. I have many leather-bound books and my apartment smells of rich mahogany.


Similar topics
---
Permissions in this forum:
You
cannot
reply to topics in this forum